PVC Strip Curtains are used for a ​range of applications in the workplace. Polyvinyl chloride (abbreviated: PVC) strip curtains for doors uses overlapping curtain strips that hang from a special rail to form a barrier. This type of door system can be deployed very quickly. The benefits of strip curtains may differ from one site to another, but generally they will:
save electricity
reduce noise
promote employee comfort
improve productivity
restrict air flow (hot and cold)
restrict ingress of pollutants/insect/dust/birds
keep your workplace cleaner
How do you measure a door opening?
Excellent question!​ Dimensions are always presented as width (mm) x height (mm).
width is measured from left to right, or horizontally
height is measured from top to bottom, or vertically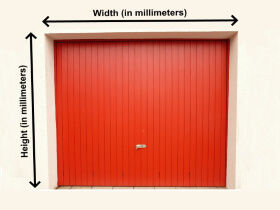 ​We often call this the daylight opening. Dimensions of a door opening is the main factor affecting the cost of your installation. It follows that smaller openings require less material hence they cost less while larger door openings require more material and are therefore more expensive.
Mounting options
Lintel mount would be the same size as the daylight opening. The pvc curtain rail is secured vertically from underneath directly to the lintel of the door opening. Consequently it will fill the width of the door opening. Sometimes this is the only option available to mount strip curtains as doors, but it is the less preferred method.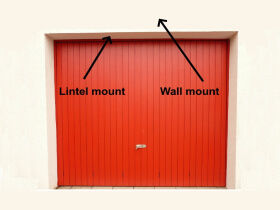 PVC strip curtains hanging rails can also be wall mounted. Meaning ​the curtain track is mounted against the vertical face of the wall, just above the door opening. With this method the rail is slightly wider than the daylight opening. The result is a better looking, more efficient installation.
Static vs Sliding Curtain Doors
A PVC curtain door installation is static or dynamic. A static curtain door is always closed and stays at the same place. A sliding curtain door can slide open (to expose the daylight opening) and slide close (to cover the door opening).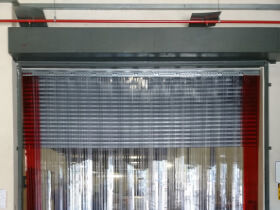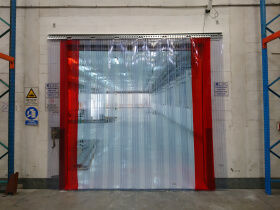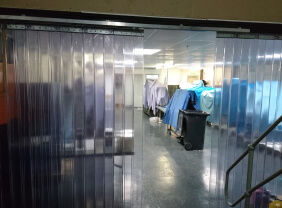 The benefit of a static installation is that you cannot leave it open because its normal position is closed. Staff and vehicles can still pass through thanks to the flexibility of the pvc strips, but it will close once they went through it. A static installation costs less than a sliding strip curtain door by quite a margin.
Certain conditions sometimes determine the use of a sliding strip curtains door​. These installations are ​more expensive than static installations (30%+). Unless your staff is well disciplined, chances are the curtain door will be left open for extended periods, defying the original motivation to install a PVC curtain door. They do, however, offer you a means to use the opening as if there isn't PVC strip curtains at all.
Also note, if a sliding pvc curtain is required, then you will need the daylight opening width either to the left of the opening, or to the right of the opening, or half of it on both sides. A sliding pvc curtain door can use either fixed track or swivel track.
Strip Curtain Components
A typical strip curtain door consists of the following parts (from top to bottom):
a pvc strip

curtain rail

mounted horizontally at the top of the aperture

fascia plates

to secure each strip to the pvc strip curtain rail (or track)
PVC

curtain strips

hanging vertically from the curtain track to the floor, and
lots of bolts and nuts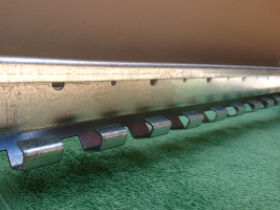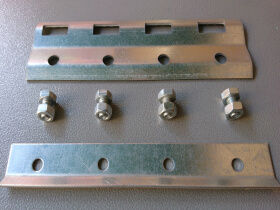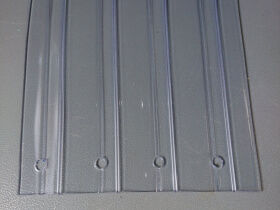 Depending on your specific requirements, the exact parts might look slightly different. In the next few paragraphs we will cover the various options you have.
Strip curtain rails
The economical option is called a fixed track. This type of track has an angle shape and is secured to the wall. Fascia plates (1 piece) are then used to secure the PVC curtain strips to the (fixed) track with bolts and nuts.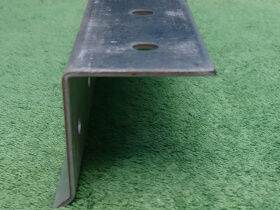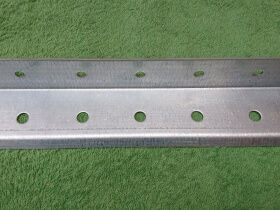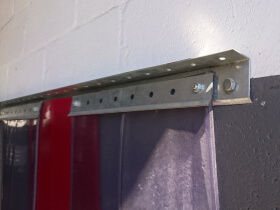 Fixed tracks offer a simple design, or, less complicated than swivel tracks. They use less steel, weigh less, and consequently costs less. The downside of using this type of track is you will sacrifice convenience.
Our second type of curtain rail is called the swivel track. This product is arguably the best hardware money can buy and as a result it is very popular. Each PVC curtain strip receives one fascia plate (2 piece). The front and back plate clamp the curtain strip and the whole assembly slots onto the swivel track.
All steel products (pvc strip curtains hanging rails, fascia plates, bolts and nuts) are galvanised to protect the steel against rust. If your site is in a corrosive area, the exact same parts can be supplied in stainless steel as an optional extra.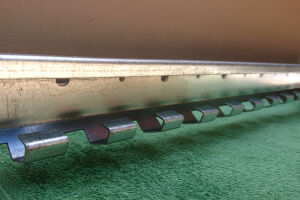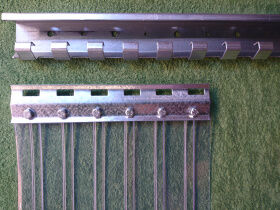 Fascia plates
Fascia plates are used to secure PVC curtain strips to the curtain hanger. If you are using a fixed track, then you would use fixed fascia plates to secure your pvc curtain strips. Fixed fascia plates are available in 200 mm, 300 mm and 400 mm and its a 1 piece item. We use 8 mm galvanised bolts and nuts.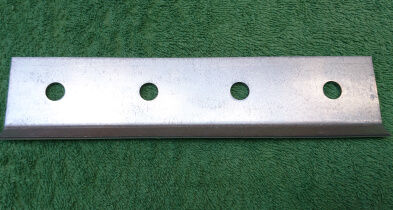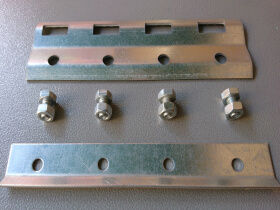 ​However, if you are using a swivel track, then you would use swivel fascia plates to secure your pvc curtain strips. Swivel fascia plates are available in 200 mm, 300 mm and 400 mm and its a 2 piece item. ​Every strip on your pvc strip curtain ​gets one.
Strip Curtain Sizes
The three most popular curtain strip sizes are:
200 mm x 2 mm = light duty, typically for pedestrian traffic
300 mm x 3 mm = medium duty, suitable for pedestrian & pallet jack traffic
400 mm x 4 mm = heavy duty, definitely used where forklift traffic exist
Four factors or conditions that affect the selection of strip size:
height of ​door opening (or more accurately, height of the installation)

the higher a door opening, the wider the strip must be

force of draught through the door opening eg internal vs external door

internal doors are less exposed the the elements than external doors

type of traffic which will pass through the pvc curtain door

pedestrian traffic uses light duty strips
forklift traffic require heavy duty strips

how efficient the barrier needs to be

you can increase or decrease the number of strips aka density
Colour your Strip Curtains
Partition curtains are available in a number of colours. The most popular colour is clear. In addition it serves to note that certain colours are associated with ​specific applications. For example:
​clear pvc strip curtains ranging from normal temperature, air conditioned areas to cold rooms and freezer rooms
transparent yellow is an anti-insect product
light green and red pvc strip curtains are

welding curtains

various non-transparent (or opaque) colours to partition an area for privacy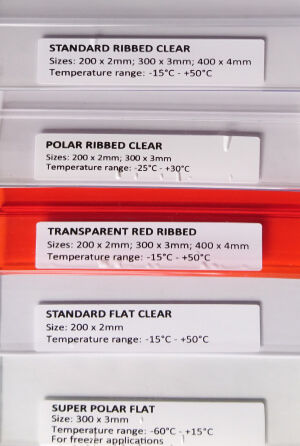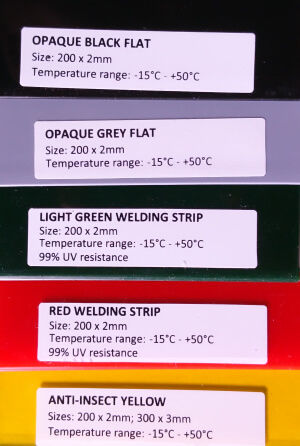 We have an extensive range of articles which you may read at your own leisure in our Knowledge Base.